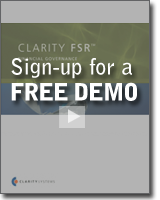 Register for a Free LIVE Demo!

"nexDimension CAFR Solutions - Demo"

Rather than investing in a complete overhaul of your core operations...

Learn how one smart change can get you recognized for CAFR excellence:

- External Financial Reporting Efficiency
- Collaboration & Internal Controls
- Data Consolidation & Formatting
- Compliance with Regulatory Authorities

IBM Cognos FSR can lead you to CAFR Excellence!
Automatic Cascading Numbers Ensures Data Consistency
Maintains Transparency & Full Disclosure
Collaboration Enables Many Simultaneous Users
Section Assignments Provides Audit Trail & Workflow
Built-in Electronic Submission Functionality Readies for the Future
Data Integration - Pull data from ERP systems, financial consolidation applications, relational & OLAP databases, Microsoft Excel, etc.
Sign-up for your complimentary CAFR Solutions Demonstration!