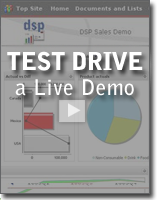 Test Drive a Live Interactive Demo!

"DSP Performance Canvas Software"

Rather than investing in a complete overhaul of your core operations...

Learn the SMART way to improve your organization's overall performance.

Performance Canvas allows you to:
- Analyze the business situation
- Comment, communicate & initiate action
- Incorporate Enterprise Search integration
- Put data in your pocket via Mobile BI
DSP Performance Canvas - Live Interactive Demo
Performance Dashboards, Mashboards & Visualizations
Web, Microsoft SharePoint & Mobile Usage Capabilities
Collaborative Design & Publishing
Enterprise Search Integration
NEW! Certified Integration to SAP NetWeaver
Complete BI platform at a fraction of the price
Register to Test Drive a Live Interactive Demonstration!