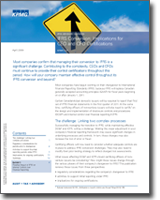 Register today to gain FREE access to:

"IFRS Conversion Implications"

Rather than investing in a complete overhaul of your core systems...
Learn how to make one SMART change to satisfy IFRS requirements including:

- Information technology systems
- Internal, external & tax reporting
- Key performance metrics
- Tracking stock-based compensation


FREE BONUS!
"IFRS Reporting Informative Briefing"
IBM Cognos FSR Automates the IFRS Reporting Process
Support conversions from GAAP to IFRS
Secure collaboration and workflow
Seamless integration to data sources
Compliance checklists and audit trail
XBRL support for IFRS taxonomy
Comprehensive work papers and financial disclosures
Sign-up for FREE access to: "IFRS Conversion Implications"