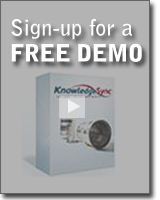 Register for a FREE Demo!

"KnowledgeSync Software Demo"

Rather than investing in a complete overhaul of your core systems...

Learn how to effectively monitor, manage, & respond to time sensitive business data:

- Increase revenue & productivity
- Create one complete source for all alerts
- Instantly respond to clients
- Identify subtle shifts & adjust quickly
- Execute organization-specific response

KnowledgeSync - Business Activity Monitoring
Monitor application data, reports, email, web forms & more
Analyze data across multiple applications
Spot when a record "changes"
Send alert messages (via e-mail, fax, cell phone, etc.)
Generate & deliver relevant reports
Perform mathematical functions
Move data from one application to another
Sign-up for your complimentary KnowledgeSync Demonstration!