IBM Cognos
®
Enterprise allows your business to easily interact, share information and conduct comprehensive analytics in a simple, unified workspace.
Powerful and Scalable Business Intelligence and Performance Management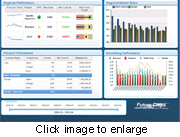 With IBM Cognos Enterprise, everyone is equipped with what they need to help your organization outperform, including reports, analysis, statistics, dashboards, what-if analysis, budgets and more.
Cognos Enterprise arms every user in your organization with the business intelligence and performance management capabilities they need to turn insight into action by enabling them to:
Assemble relevant information to understand the business in a unified workspace with reports, dashboards and statistics.
Analyze information to make fact-based recommendations using analysis capabilities.
Align decision-makers by helping them easily share insights and information and collaborate in everyday analytical processes.
Cognos Enterprise supports where everyone in your organization chooses to work with consistent information wherever they go:
Over the web. Easily interact, share information, plan, model and conduct comprehensive analytics in a simple unified workspace that provides broad and powerful business intelligence and performance management that everyone can use.
On mobile devices. Gain simple, reliable and secure insight with on-demand business intelligence, reports and analysis.
In a personalized, individual workspace. Independently work on the desktop to visualize personal or corporate data, conduct comprehensive analysis, visualize information, enter insights and then share that work with others.
Cognos Enterprise meets the needs of IT with highly scalable and extensible analytics that enable them to:
Provide complete and consistent access to all information wherever it is stored.
Rapidly deliver information and optimize performance for fast response times.
Confidently deploy and centrally administer your solution.
Cognos Enterprise is a portfolio of integrated business intelligence and performance management solutions that supports the way users want to work and can help everyone in your organization meet strategic objectives. It is part of the Cognos 10 family of products that enable your organization to start anywhere to quickly satisfy urgent business requirements and grow your solution over time to address future needs.
.: Read more about IBM Business Intelligence Software
Additional Documentation for IBM Cognos Enterprise
.: See More Documentation in the Resource Center

 Questions? Call (770) 475-1575 or
Contact Us
.