IBM Cognos
®
Insight is a personal analytics solution that empowers analysts and business users to assemble and explore all types of data through a dynamic, highly personalized interface.
"What-if" Dashboards and Scorecards for Better Analysis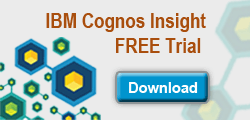 IBM Cognos Insight puts the power to solve individual and workgroup challenges directly in the hands of business users. More than just a discovery tool, it lets you turn your insights into action and solve problems or seize new opportunities quickly, all from the convenience of your desktop.
Cognos Insight makes it easy to answer business questions on your own, at the speed your business requires. In a few clicks of the mouse, you can access and visualize personal and corporate data, do "what-if" analyses, and publish dashboards and applications to help drive smarter decisions.
Quickly uncover new insights from trusted business intelligence data and reports, as well as local files, databases and predictive data.
Get answers to business questions whenever and wherever you need them–no more waiting for reports and dashboards.
Turn insights into action by modifying plans, forecasts and budgets to align the right resources in support of your decisions.
Use Cognos Insight as a standalone solution or combine it with other IBM Cognos software as part of a larger deployment.
Add broader analytic capabilities such as managed reporting, financial and performance management and predictive analytics as your needs evolve.
Gain the analytical agility you need today, along with proven enterprise IT values and a growth path for the future.
Cognos Insight delivers the flexibility and agility business users need. At the same time, it enables organizations to bridge the gap between business user freedom and IT governance processes–while creating a growth path to enterprise-level collaboration and management. For example, files can be shared via a server to make it easy for others to supply input and for IT to apply security and corporate standards. IT can then publish the files to the enterprise, where they can be further enhanced or managed at the corporate level.
.: Read more about IBM Business Intelligence Software
Additional Documentation for IBM Cognos Insight
.: See More Documentation in the Resource Center

 Questions? Call (770) 475-1575 or
Contact Us
.