IBM Cognos
®
Active Report provides an interactive analytics experience in a self-contained business intelligence application for browsing and exploring data offline.
Go Anywhere, Do Anything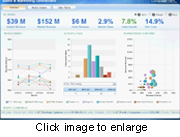 IBM Cognos Active Report enables mobile workers to take their data with them to discover opportunities and analyze trends even when they are nowhere near a network. Explore information without having to rely on online connectivity. Access the BI you need while offline for uninterrupted productivity. Provide business intelligence to you and your team regardless of location, situation or connectivity.
Deliver BI whenever and wherever you need it
With Cognos Active Report, you can deliver business intelligence to a broad set of users quickly. Professional report authors create interactive report applications that can be easily burst, scheduled, sent in an email, or picked up by individuals from a private website.
Offline analytics made easy
No training or authoring skills are necessary to view the interactive report or dashboard. Persistent connectivity is no longer required for obtaining and viewing key business intelligence data.
.: Read more about IBM Business Intelligence Software
Additional Documentation for IBM Cognos Active Report
.: See More Documentation in the Resource Center

 Questions? Call (770) 475-1575 or
Contact Us
.