IBM Cognos
®
Statistics capabilities help you incorporate statistical results with core business reporting, reducing the time it takes to analyze data and prepare business presentations based on that analysis.
Support Business Decisions with Statistical Results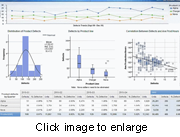 Including statistics with business reporting is critical for facilitating fact-based decision-making. This can be a challenge because it often requires using different—and sometimes disconnected—software. You need to be able to incorporate statistics into core business reporting without having to struggle with multiple tools, the overhead of exporting data to different systems or the complexities of bringing results back together in a single output.
Cognos Statistics software helps ensure that the statistical evidence that backs key business decisions is accurate and can be delivered easily to broader business communities in dashboards and reports.
.: Read more about IBM Business Intelligence Software
Additional Documentation for IBM Cognos Statistics
.: See More Documentation in the Resource Center

 Questions? Call (770) 475-1575 or
Contact Us
.