IBM Cognos
®
Controller is financial consolidation software that supports the complete close, consolidate and report process, all in one solution managed by finance and accounting.
Finance Manages the Consolidation Process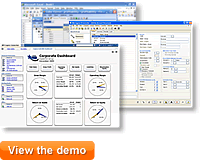 IBM Cognos® Controller sets a new standard for financial consolidation software with a comprehensive suite of capabilities for financial consolidation and management and financial reporting.
Operated and managed by the office of finance, Cognos Controller ensures the accurate collection and reconciliation of financial results. It delivers the timely, accurate information that finance organizations need for regulatory compliance, planning, analysis and performance management.
Automate and accelerate the close process.
Define and maintain all financial consolidation rules and processes from the office of finance.
Ensure accurate collection and reconciliation of financial results and eliminate data and calculation errors.
Consolidate thousands of accounts into a common chart-of-accounts structure.
Maintain end-to-end control of the entire consolidation process, including data input and reconciliation.
Use the Company and Group Command Centers to help both reporting users and Group Controllers efficiently carry out tasks during the closing process and monitor and manage the progress.
Use audit trail functionality to track changes in data entry, manual journal data and automatic journal data.
Meet the complete range of global and local consolidation and reporting requirements "out of the box," including IFRS and U.S. GAAP.
Evaluate results for multiple countries, currencies and legal entities, each with its own accounting policies intact.
Speed report preparation with more than 200 preconfigured, standard reports.
Support planning, budgeting and forecasting with consolidated management data based on a clear link between statutory and management consolidation.
IBM Cognos®  Controller is part of an integrated Financial Close Management (FCM) solution, built on an efficient, purpose-built platform. It helps you deliver complete financial results, create financial and management reports, and provide the CFO with an enterprise view of key ratios and metrics.
.: Read more about IBM Financial Performance Management Software
Additional Documentation for IBM Cognos Controller
.: See More Documentation in the Resource Center

Questions? Call (770) 475-1575 or
Contact Us
.