IBM Cognos FSR
IBM Cognos FSR is unique because it is the only external reporting software that reduces compliance risks while simultaneously reducing the cost of compliance.
Addressing External Reporting Processes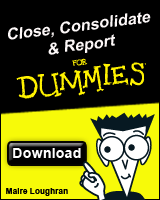 For finance departments dealing with increasingly complex reporting requirements, IBM Cognos FSR is the only enterprise software application that automates the external reporting process - providing functionality to improve efficiency and reduce the risk inherent in the production of statutory and regulatory reports.

Simple, Intuitive & Easy-to-Use
If your users already know how to use Microsoft products such as MS-Word and MS-Excel, then using IBM Cognos FSR will be intuitive and easy. IBM Cognos FSR provides a user interface that leverages all of the formatting capabilities of MS-Word and all of the calculation abilities of MS-Excel. With dynamic home page functionality, users can filter among report sections and view section status, workflow assignments and due dates, among others.

XBRL Tagging

IBM Cognos FSR offers the most advanced XBRL solution on the market today. This system integrates XBRL into the external reporting process and makes the tagging, validation and creation of XBRL documents dramatically more efficient and less error prone.
IBM Cognos FSR delivers an integrated XBRL solution, automates the external reporting process to make it more efficient, reduces risk & deliver output in multiple formats: XBRL, PDF & MS-Word. IBM Cognos FSR helps address the pain of building external reports & provides XBRL output with no additional effort.
GAAP to IFRS Conversions

Conversion to IFRS is much more than just an accounting exercise. It will affect many aspects of a US company's operations, from information technology systems and tax reporting requirements, to internal reporting and key performance metrics and the tracking of stock-based compensation.
nexDimension, along with software solutions from IBM and Microsoft, can simplify the transition from GAAP to IFRS. With IBM Cognos FSR, management can focus on the IFRS accounting decisions rather than on document logistics, leading to higher productivity and a reduced risk of errors in the final reports.
Automated Compliance Documents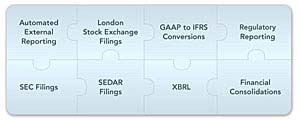 IBM Cognos FSR automates the creation of filings including annual reports, quarterly reports, and board books, among others. IBM Cognos FSR provides a collaborative environment where many contributors can participate in the creation of the external document - within a secure environment, with a tight audit trail and with a seamless connection to source data. With IBM Cognos FSR, you can produce external financial documents more efficiently, with more controls and in compliance with the appropriate regulatory bodies.
.: Read more about IBM Financial Performance Management Software

Additional Documentation for IBM Cognos FSR
.: See More Documentation in the Resource Center

Questions? Call (877) 586-2650 or
Contact US
.