In today's economic climate, having the most pertinent information available, allowing you to clearly view the health of your organization, is imperative. The more employees who have access to business data, the greater a company's ability to anticipate changes and make adjustments. Users want to truly experience pervasive business intelligence in their organization at a low cost through the tools they use every day.
Performance Management Dashboards & Scorecards
A Complete Solution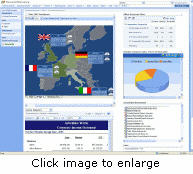 Microsoft®PerformancePoint® Services for SharePoint® is designed to solve today's performance management and business intelligence challenges using integrated monitoring, analysis and planning solutions, dashboards, scorecards and reporting capabilities. Microsoft PerformancePoint Services enables decision makers to navigate competitive business environments without wrestling with technology.
PerformancePoint Services gives customers what they need in a way that makes sense for their business — through the widely adopted Office SharePoint Server, the planning and analysis tool Microsoft Office Excel® and the highly scalable Microsoft SQL Server®.
As a result, organizations get a quicker, clearer understanding of complex business problems through data filtering, unique graphical navigation and visualization. It's one thing to hear sales are down. It's another thing to see it. Microsoft PerformancePoint Services' dashboard allows users to find trends, explore data and pinpoint what's driving corporate performance – without spending endless hours digging through data.
Reaches All Business Users
Microsoft PerformancePoint Services is easy to use, cost-effective and powerful enough to quickly move business users from seeing what is happening to clearly understanding why. It offers enterprise-grade performance management and business intelligence capabilities across all departments including finance, operations, sales, marketing and human resources via Microsoft's integrated platform.
Additional Documentation for Microsoft
®

PerformancePoint

®

Services for SharePoint

.: See More Documentation in the Resource Center

 Questions? Call (770) 475-1575 or
Contact Us
.