Government organizations at all levels are being asked to provide detailed, timely information about how every public dollar is spent. Constituent service expectations are on the rise, but enhancing services and ensuring fiscal responsibility can be extremely challenging. Every day, government offices use Microsoft Dynamics products to help do just that.
Helping Local & Municipal Governments Manage Spending, Increase Efficiency, and Improve Constituent Satisfaction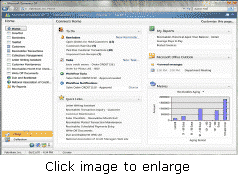 Microsoft Dynamics® can help all forms of government manage their expenditures and appropriations by allowing employees to easily see and analyze the costs and activities under their control.
Microsoft's Dynamics applications provide detailed, up-to-the-minute financial reports that allow employees to make informed purchasing decisions, help your department comply with reporting requirements, and ensure financial integrity and accountability.
Accurate and timely reports tailored to the information needs of the user can help increase confidence in your organization's financial management skills. Tighter controls help improve cash flow and tie spending to programs, fund sources, and goals.
Spend less time on fund accounting processes and more on delivering services. Focus on operations instead of technology. Microsoft Dynamics helps state, city, and local government agencies adhere better to regulations and controls, proactively manage grants and budgets, and streamline government administration functions, including utility billing, permitting, tax assessments and collections, payroll, fixed assets and other core financial functions.
nexDimension's implementation of Microsoft Dynamics will help you with:
Interfund Accounting
Account Management
Encumbrance Management
Commitments Management
Grant Management
Government Services Brochure:
Additional Documentation for Microsoft Dynamics
®

GP
Financial Management:
Compliance:
Human Resources:
Manufacturing:
Supply Chain Management:
Field Service:
Business Intelligence (BI):
.: See More Documentation in the Resource Center

Questions? Call (770) 475-1575 or
Contact Us
.