Business Intelligence (BI) refers to skills, processes, technologies, applications and practices used to support decision making. These systems provide directed background data and reporting tools to support and improve the decision-making process.
Business Intelligence (BI) Technologies Provide Historical, Current and Predictive Views of Business Operations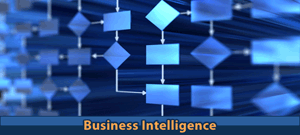 The increasing importance of Business Intelligence (BI) involves monitoring and measuring certain key performance indicators unique to a business strategy. Once an organization has analyzed its mission, identified all its stakeholders, and defined its goals, it needs a way to measure progress. BI dashboard and scorecard tools help an organization to visualize, define and measure progress toward organizational goals.
When used correctly, BI can help transform organizations into top performers by increasing the focus on key objectives and providing timely insights so they can fix problems or exploit opportunities before it's too late. Critical information is placed at the fingertips without unnecessary detail. With a quick glance, users can see the status of key processes, projects or activities and take action.
The need to keep informed about critical information isn't limited to just one or two departments within an organization. The sales staff, finance department, service technicians, and business partners need to be kept in the loop when critical, time-sensitive information comes to light. By implementing business process management principles and practices, organizations can stay agile, connected, consistent, and in control.
.: Read more about Business Intelligence (BI)
Additional Documentation for Business Intelligence
.: See More Documentation in the Resource Center

Questions? Call (770) 475-1575 or
Contact Us
.